The Art of Sales Negotiation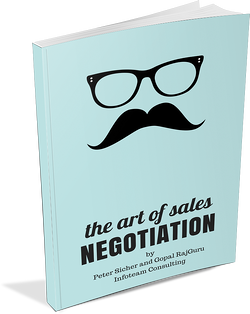 Our new eBook exposes the reality behind successful Sales Negotiation. This practical guide offers a plan of action, talks about the issues you need to tackle and how to avoid the most common mistakes.
What you'll learn from the eBook:
7 myths and fantasies about sales negotiation
How to plan, prepare and conduct critical negotiations
Picking the winning negotiation team
The power of unequal variables
Keeping the profit in the deal
Perfecting the close
Learning from every negotiation
Plus: useful coaching questions
This eBook takes you step by step through everything you need to plan and execute the perfect negotiation. Your customer will feel they have negotiated the best possible deal and you will have retained profit. Win-Win!