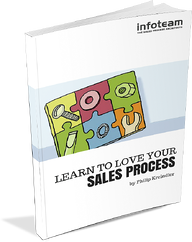 Does your sales process help you win business? Many people actually say that it doesn't. But why is that?
The Sales Process shouldn't be something you hate or a formality, but actually, it should be something you love – an action guideline based on best practice, and above all, a toolkit that helps you increase the probability of a sale.
In this eBook:
Learn the elements of an ideal sales process

Find out why you should love the sales process

Discover the benefits of a good sales process
To download the eBook, simply fill out the form.