Never Miss an Infoteam blogpost again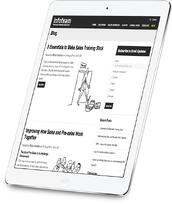 The Infoteam blog covers stories every week that help sales professionals keep a hand on their sales process. We give you useful and interesting insights from our won experiences as Infoteam consultants to try and help you and your business.
You can sign up to instant, daily, weekly or monthly updates, it's completely up to you. If you're not sure though, we'd recommend starting with a weekly update.
Just tell us the email address where you would like the updates to sent, and get reading our blog.