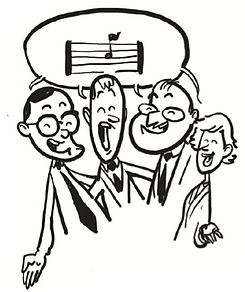 Did you watch the World Cup earlier this year? The host country Brazil has a proud history of footballing success and with a team of international star players, they had every hope of winning the competition. But in the semi final they suffered a massive defeat, going down 1-7 to Germany who went on to win the cup. Brazil may well have had the better players, but Germany were the better team. It takes team work to win.
You can't win complex Sales without team work
At least footballers in the same team all get to meet each other face-to-face. You may not have that luxury. Increasingly the Opportunity Team required to deliver a strong proposal for a complex sale has to be multi-disciplinary and is spread across the world. The customer Buying Centre is also likely to include many different Business Units and nationalities each having their own say.
How can you create a cohesive, motivated and agile team of experts to respond to this sort of challenge? It may not be easy but it is essential if you want to win. Presenting your customer with a well aligned team can clearly differentiate you from the competition and be a deciding factor in winning the deal.
Building relationships
Trust and mutual respect are the building blocks of team selling. The fastest way to build trust is to meet face-to-face – 'to put a face behind the email address' as a client said to me recently.
You may not be able to travel the world to meet all the Sales Professionals and Pre- Sales specialists you are working with, but some Sales Professionals don't even travel around their own building! If you are working with people from a different Business Unit take the time to meet them, get to know them and understand what they need from you to do a great job. And when the pitch is won, remember to thank them for their contribution to the success.
I owe you one
If you help people they are more likely help you. Sometimes it may not be convenient to spend your time on something with no immediate benefit to you but think how the person asking you might be able to help you in the future.
How a customer team won
We supported a client recently who won a pitch worth €350M. It was a very complex sale involving 5 countries and several Business Units on the customer-side and a multinational Opportunity Team. When we conducted a win analysis after the pitch and had an internal review, some important things emerged about why they won.
No Prima Donnas – If someone tries to be in charge of everything and take all the glory other people disengage.
Technical expertise – Pre-sales specialists need to be given the praise and recognition they deserve.
Trust in delivery capability – Everything you do during the sales process shows the customer what it will be like to work with you.
Management presence – Customers like to see managers involved in the Opportunity Team. It demonstrates company commitment to understanding and fulfilling their needs.
Decision making authority in the team – Customers want to feel they are dealing with the people in your organisation who matter, and they expect them to be responsive and provide the answers they are looking for quickly.
Tools from the Sales Process
Team building may not be a specific stage in the Sales Process, but there are tools in the Sales Process that are invaluable in helping you to build your team and keep it working together.
Opportunity Roadmap – This tool takes on a far greater significance if your team is spread across several locations. It has to be an online document that everyone in the team can access and update. It works like an Opportunity Newsroom, keeping everyone informed and engaged.
Deal Pit Stop – This is an opportunity to get the team together to identify hurdles and how to overcome them. With a distributed team it may well be an online conference but even so it is crucial to bring the team and management together.
Win-Loss analysis – How did your team perform? You only really know if you do a thorough analysis and this includes asking the customer in depth questions about how they perceived your engagement, as well as reviewing the pitch internally.
It's my business
Some people will help you because they see the bigger picture. Unfortunately, not everyone does. This may occur on a personal level or have "other" causes. We recently found that the US division of one of our customers refused to include Europe in a global pitch because they would have to share the commission. They lost the deal. Surely it would have been better to take a smaller share of something rather than all of nothing! But that has to be defined by management in your Rules of Engagement.
The Spanish are disorganised
And the Germans are too bureaucratic and IT people don't understand business. Nonsense! Some people have unfounded prejudices about other countries, other Business units or even about individuals. What do you do if this sort of thing is causing problems within your team?
Ideally you should have a mediator to sort out the problems. Start by examining the history behind any misunderstanding and be open about communicating that history. Then set out some mutually agreed rules for the future. Once people understand the expectations of other team members, any cultural differences and red lines it becomes easier to collaborate.
Ask yourself these questions
Do you think your customers see you as a close-knit team?

Do you think your colleagues always give you the support you need?

Do you go the extra mile to collaborate with them?

If the answer to any of the above is no, what's your plan to fix it?
Did you enjoy this blog about Working as a Team when Selling? Download our eBook: