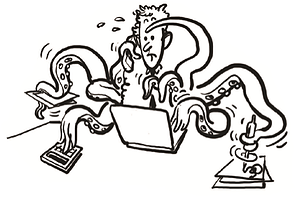 If you made sandwiches, selling would be easy. People are hungry so they come to you for a sandwich. Maybe you make such great sandwiches they come to you even if they aren't hungry. Either way, they want to eat – you sell them a sandwich.
But what if your product is so sophisticated your potential customer doesn't know they need it (they don't even know they are hungry)? And their business may be so complex you don't know exactly how you could help them. Oh, and the people in the organisation who understand your product don't make purchasing decisions - and the people who do, don't understand your product.
Welcome to the world of complex B2B selling.
Meet my client
My client offers solutions that can save lives and property by predicting floods caused by forest fires (apparently fires change the way rainwater drains). The same product assists the navy to locate hidden mines and helps universities to decide where to put the next research lab.
My client develops sophisticated software based on Geographic Information Systems (GIS). Even they can only imagine a fraction of the ways their technology might be used and most potential customers don't realise how much my client could help them.
The challenge for Sales
Growth depended on bridging this gap and presented a real challenge for the Sales Team. They had to move from the old world of technical people selling to other technical people into a new world where my client had to understand the real needs of customers and deliver a solution.

The challenge for Infoteam
This was not a matter of simple Sales training; they had to complete a Sales Transformation. Fortunately, that's what we are good at. We looked at the best way to win new business and at how to retain and grow existing customers. We were able to base our offering starting with our Winning Complex Sales and Managing Strategic Accounts solutions but going on to cover every aspect of the Sales Process.
The key to success was management commitment and our ability to be flexible. We adapted the training and tools to the particular needs of this client and made sure the core concepts were fully integrated into their CRM.
And like any solution, it only works if it sticks. We introduced pragmatic and easy to use tools and methodologies that Sales people where keen to use and which met the needs of the company.
The results
New market segments identified and approached systematically

Long Sales processes (1year+) are managed more effectively

More business generated from existing customers

All resulting in 20% year on year growth for the company
We have now been working with this company for 10 years - a good example of a successful Sales Transformation.
Ask yourself
It might be worth sitting down with a cup of coffee (and maybe a sandwich if you are hungry) and thinking about your own challenges:-
Are you aware of and fully addressing your potential market?

Do your customers really understand the potential value of what you have to offer?

Are you conducting the right conversations with the right people in customer organisations?
Enjoyed this blogpost? Download our eBook: