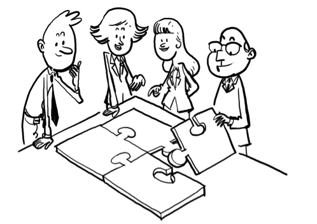 If you put a high performance engine in a low spec car don't expect to get anywhere much faster. You will have to adapt everything from the transmission and suspension to the tyres and brakes. The same applies in a company that wants to implement a Sales Process, if the rest of the organisation does not keep up then the whole project will end up in the ditch.
The negative impact of poor alignment
Our expertise is Sales Transformation, not corporate strategy. Having said that I am increasingly aware that many Sales Transformations fail because the rest of the organisation is not aligned to the new Sales Process.
Let me share a few examples to illustrate how poor alignment can sabotage Sales.
KPI traps
We work with a company who makes lenses for highly sophisticated lasers used in high-tech and medical equipment. They are part of a complex supply chain and it is vital that they are very responsive to enquiries from customers about new products. The Sales team needs to work closely with R&D and Production to provide customers with the information they need. But, Production in this organisation is measured purely on productivity so any time spent supporting Sales distracts them from achieving their own performance targets. Likewise, we work with a software company where the Professional Services team are a vital part of the Sales Process but again they have KPI's that are all about billable hours, so providing excellent support to Sales isn't their #1 priority.
We managed to resolve both these issues by identifying and addressing the inhibitors of success early in the project. Another situation that worked out less well was when one of our clients successfully sold a washing liquid product into a very large supermarket chain. When the supermarket chain put the product on the shelves they immediately received complaints from customers because the container felt very flimsy. The Purchasing department, who were tasked to cut costs, had sourced new packaging without involving Sales. Not only did the supermarket chain cancel their order for the washing liquid they delisted other items from our client.
Talking the same language
A significant factor in a successful Sales Transformation is to get everyone using the same language and definitions for things like Understanding Customer Needs, Value Propositions and Win-Loss Analysis. It helps to institutionalize a common nomenclature and ensure that everyone knows what the Sales Team is talking about. Having had problems in the past, I spent some time at the start of a recent project talking to all the relevant departments to find out about their processes and touch-points with Sales.
As a result we changed some of the language we use in the Sales Process so it aligned with existing language in the company and didn't cause confusion. A valuable additional benefit of understanding the processes that were being followed by other departments was seeing potential opportunities and threats to the success of the Sales Transformation project.
Teamwork and trust
Individuals within departments and from different departments have to work as a team. Anyone who is familiar with the English Premier League, one of the richest football leagues in the world, will know that 5000-1 outsiders Leicester City won the league this season. Their entire team cost less than some of the stars in the teams they beat repeatedly but they clearly worked superbly as a team and won the big prize.
A lot of sales people reading this will have their own bad experiences of poor teamwork and alignment, maybe a Marketing Department who don't understand what customers really want to hear or Pre-Sales who don't prepare well for client presentations. I am working with a private bank and was shocked to hear that only 1 in 5 of the Relationship Managers (responsible for new business) introduce their prospects to the highly skilled resources along the supply chain. These are people who would make a very positive impression on prospective customers.
You can't afford to have departments working in silos or old fashioned sales people who think they own the relationship with the customer. You have to start collaborating. That goes on to build a hugely valuable asset that simply cannot be bought because it has to be earned. Trust.
The Chief Alignment Officer
I was working with a company just before writing this article and very early in the project the CEO did something that I thought was astonishing and highly risky – but it paid off. At the end of the project kick-off meeting with all country MD's and senior department managers – about 50 people in all - he said "You have seen what we are proposing with this Sales Transformation, how many of you want to go ahead with it and commit to supporting it?" And 50 hands went up, much to my relief I must say.
It really is the responsibility of the CEO to ensure that people work together in teams to win business and develop the teamwork and trust that will enable them to keep winning business.
Alignment as part of Sales Transformation Projects
I hasten to add this is not something we have done well in the past, we have tended to help clients fix problems as they arise. But this will change in the future. As we did with the software company, we will liaise with all the departments who interact with Sales and talk to them not only about programmes and language but also about their processes and KPIs. That way we can identify in advance any gaps or conflicts that are likely to impact on the new Sales Process and engage the CEO – the only person with responsibility over all departments - to make sure those potential barriers are removed in advance.
I think we will also need to engage people from other departments in teamwork so they can start to develop a level of trust. When we have tried and tested this approach I will write another blog telling you how it is working.
Ask yourself
Are all the departments in your company customer focussed?

Do individuals avoid helping the Sales team so they can meet their own KPIs?

Is there someone at senior level you can turn to and be confident they will help resolve issues between Sales and other departments?
Enjoyed this blogpost? Download our eBook: