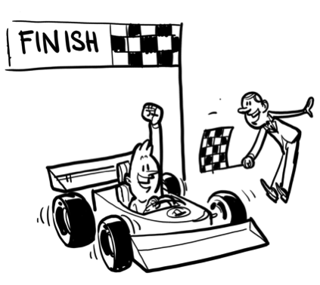 Back in the 1960's the US car rental company Avis ran an advertising campaign with the strapline 'We try harder'. The basis of the ads was that because they were not the market leader they had to try harder, paying greater attention to every detail and providing a better service all round. The campaign certainly worked, in four years their market share went from 11% to 34%.
This got me thinking; is being a Sales Person in an underdog company better than working for a market leader?
Meet the Underdogs
I know a lot of Sales People, some from market leading organisations and some from those companies striving to win business from the market leaders. I go back to quite a few of these organisations repeatedly over several years and there is something I have come to recognise – the Sales People from the underdog companies take on board much more of the training than the Sales People in the market leading companies. Why is that?
I think it is because the underdogs have a much tougher task and have to work smarter and harder to succeed. They are hungry for anything that will help them win, so they listen to what we say, use the techniques in real situations and find they work so they use them again and again.
No one ever got fired for buying IBM
Excuse me for quoting another ad campaign, but this strapline from IBM in the 1980's sums up the difference between selling for market leaders and underdogs. Market Leaders get on the short list because it's seen as a low risk option to purchasers. Sales People in the market leading companies may well make sales and meet targets but sometimes they are little more than order takers.
An underdog that is fast becoming top dog
One of my favourite customers is an international private equity fund headquartered in Switzerland. When they started they were tiny compared with their competitors but they continue to win business and grow faster than the competition. Not only because of their funds' performance record– but because of the way they sell. They are in my opinion one of our best adopters of a systematic sales process.
Should you hire Sales People from market leaders or underdogs?
One of my contacts runs the Sales Teams globally for a very large software company but he started working in small tech companies competing hard to win business from the market leaders, often IBM as it happens. After a few years he moved to a large company, but he brought with him a huge amount of experience of selling in tough situations. He was able to galvanise the Sales Team in his new organisation and help them retain their market leadership.
Ultimately you should make the right hire, based on the best fit with your organisation and your Sales Process. But when you are looking through CV's don't be seduced by big name past employers and ignore people who have worked for underdogs. I have seen more people make a success of moving from a successful underdog to a market leader than the other way round.
Should graduates look for jobs with underdogs?
This is the time of year when final year students are thinking about where to apply for jobs. The market leaders want the brightest and best talent and who can blame them? They invest in building a strong 'employer brand' and spend time and money on campuses getting students interested in their established graduate schemes.
They also tend to offer higher starting salaries, a good onboarding process, a clear career path and promise a good name on the candidates CV. And by no means least of all, parents feel more comfortable when their children start work for a well-known name.
But graduates are increasingly choosing to take sales roles in start-ups, the very underdogs I have been referring to. When they start working for a small business, they will often have a role with more flexibility and responsibility than in a market-leading organisation. There is less hierarchy so junior Sales People have more exposure to the company's decision-makers than they would in a large organisation. This means they get exposure to every part of the business and can work closely with subject matter experts and can even help shape the solutions.
Perhaps most importantly, they will rapidly build sales experience and see the impact of achieving a sale first-hand – a huge motivator and something that can be applied to any future Sales role.
Why should market leaders care?
Underdogs and start-ups are only snapping at the heels of the market leaders, not threatening their supremacy, so why should they worry? In a word – disruption.
In the past competitors might creep up on the market leaders, but now a single technical innovation can disrupt the whole business model for existing companies. Google Analytics and changes in the Google search algorithm have wiped out web analytics companies and SEO companies. Recorded music retailers have virtually disappeared from the high streets and video hire shops are more or less a thing of the past.
A market leader can suddenly find itself fighting for every last sale as they desperately try and adapt to rapid change – just like the underdog.
What can a market leader do?
As I said earlier, Sales People in underdog organisations adopt every bit of the training we deliver and use it effectively. Take up in market leading companies is much lower and it's often dropped quite soon. The Sales People in the market leading organisations simply don't feel the need to make challenging changes and if they do the impact is not always clear to them. In their role they don't feel they have a pain that needs resolving.
The responsibility rests with managers.
3 things a market leader can do to sell more like an underdog
Build a burning platform – if Sales People don't feel the need to try harder why should they? Raise targets and be on the look out for complacency.

Coaching - training does not work unless Sales Managers become effective coaches and the whole organisation understands the need to use the Sales Process all the time.

Win interviews – use these to help you understand why you won the business. If it's not about how you are selling then how much more could you sell if your skills were up to scratch?
Ask yourself
How would your Sales Team cope if your market were disrupted tomorrow?

Could you win more sales or retain more profit in the deals if you sold better?

Have you worked for an underdog? What were the pros and cons?
Enjoyed this blogpost? Download our eBook: