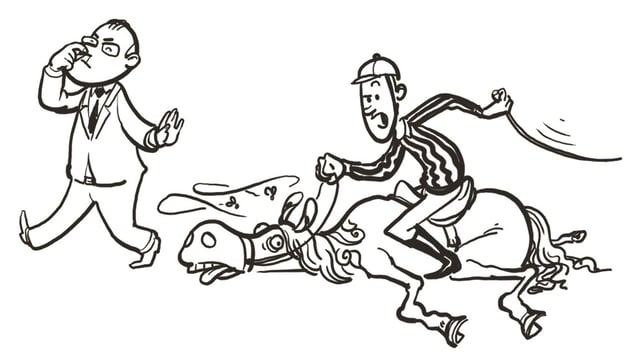 Here is today's blog in a nutshell. It is a guide to writing a letter that will allow you to waste less time on dead horses – RFPs you are never going to win – and use that time to work on opportunities you do have a chance of winning. All this while keeping a good relationship with the customer whose RFP you have declined.
Why are there so many RFPs these days?
The use of RFPs is increasingly a problem for all of us in sales. Most customers have rules that say that supplier contracts must be reviewed at regular intervals and put out to tender, even if the relationship with the supplier is good. And of course, customers may issue an RFP so they can use competitor proposals to negotiate price with the preferred supplier.
The rules often stipulate that anything up to 5 proposals must be considered, which means 4 potential suppliers will fail. You don't want to be one of them.
How do I know which RFP is a dead horse?
Use your qualification criteria. You should make a GO/NO GO decision by asking this sort of questions:
Customer needs: do we really understand the business goals and decision criteria?
Solution fit: does our solution fulfil the customer needs?
Urgency: is the project a high priority for the top management?
Budget: does the customer have budget available?
Value proposition: does our value proposition stand up, and does it differentiate us from the competition?
Buying Centre: have we identified, and can we gain access to, all key stakeholders?
Competition: do we understand the competition and their relationships?
Resources: do we have the resources to complete a professional sales process?
Buying process: do we understand where the customer is in their journey?
Profitability: does the potential profit look good after we have included the resources for the sales process?
Validation: have we validated the qualification criteria with the customer?
You'll need to tailor these questions to your industry and business and should distinguish between mandatory and discretionary criteria. Saying "I don't know" and doing something about it is better than guessing or making an assumption and then regretting it later in the sales process.
The truth is, too many sales people have a pipeline full of dead horses. A response to a substantial RFP can easily take up 50 days of valuable resource and it damages team motivation if they don't believe they can win. It's not unusual for even a good bid team to win only 10% of RFP processes. Unfortunately few sales people have the courage and know how to say no.
A letter that keeps the door open
Start by thanking the customer for asking you to respond. Tell them how much you would like to work with them but not based on this particular RFP. If your solution is not a good fit then it is quite easy, by all means tell them about the many benefits of your solution but point out where there is a mismatch. If the criteria in the RFP that you cannot meet seem on reflection to be minor, it might make the customer reconsider the details of the process they have started.
If you don't have the information you need or the access to key people, make that clear in your letter. This is an extract from a letter sent by one of our clients that illustrates how to make this point really well.
Whilst the team were incredibly keen to respond to the request, we felt we did not have the requisite comprehension of your current technical infrastructure or the project objectives to submit a considered and meaningful response. To that end, I am writing to advise we will not be participating in the Request for Proposal.
This sort of rejection is as positive as a rejection can be and again, raises questions about the RFP without being a criticism of the customer.
Lack of time and resources is probably the toughest one; nobody likes being told that you are too busy to sell to them. But most customers really don't understand just how much a potential supplier has to invest in responding to an RFP. It probably won't do any harm to talk about how committed you are to making a full and comprehensive response to their RFP. A reference to the number of requests you are already dealing with might make them reconsider their timeframe. If you could respond with a winning proposal given a little more time, say so.
Leave the door open
If your letter has been as positive as possible in the circumstances, it may not be the end of the matter. Take a look at this closing paragraph from my customer.
If, once you have assessed all of the responses to the RFP, you feel you haven't identified a suitable partner with the capabilities to deliver a solution, we would be happy to engage with you to set-up a technical discovery workshop with some of our system experts. We would then be able to suggest a suitable technical solution and a clearly defined value offering with full cost of implementation and ongoing service.
This is a great way to leave the door open for the customer. And you have freed up time for your bid team to make a better job of proposals that you know have a good chance of converting to a win. Which is the way to make more sales.
Ask yourself
Are you working on proposals you know you won't win?
Could you spend that time on proposals you could win?
Do you feel confident you can turn down an RFP without closing off further opportunities with that customer?