The predominant approach to business development and selling in professional service firms (PSFs) is Land & Expand. Get into a client with one service offering, deliver good work and then expand. The quote below from the founder of KPMG still sums up the mindset of many professionals, even today.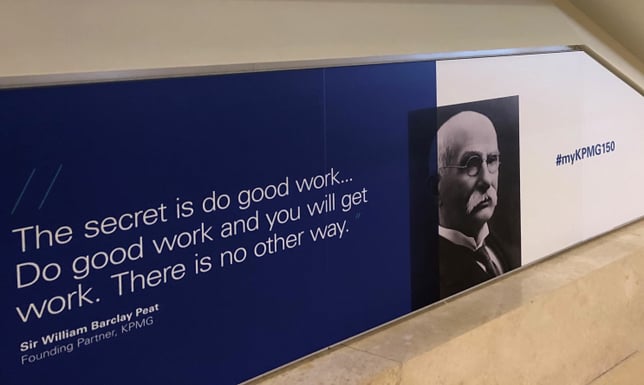 But many firms who have successfully relied on Land & Expand are now struggling. Why?
New business in existing clients is no longer a given. Quite on the contrary, client projects are being postponed, re-dimensioned or scrapped entirely.
Skills required for winning new clients are underdeveloped but are urgently needed if existing clients are bringing less business.
The situation is worsened because the few professionals with good Land & Expand skills are often measured by their own chargeability.
The pandemic has created a perfect storm in which a combination of circumstances has drastically aggravated the situation. The result is lower revenue, a thinner pipeline and a shortage of business development skills to resolve the situation.
Below are some suggestions about what you can do to fix the problem:
Set the right message from the top. Chargeability and pipeline are both important.
Create an "everyone can do sales" mindset g. by running a panel discussion based on real-life examples of successful hunting, farming and cross-selling. This helps to de-mystify sales and create the right mindset.
Focus on must-win deals by running Opportunity Pit-Stops and assigning an Internal Challenger to support the Opportunity Pursuit Leader. Winning your key opportunities creates confidence and drives personal change.
Get everyone to commit to filling the pipeline. This might require rethinking your offerings so that they hit the nerve of the time.
Develop a framework for preparing and conducting opportunity origination meetings. Coach each professional in using the framework effectively.
Measure the number of opportunity origination meetings conducted by each professional per month and make the numbers transparent.
Don't become complacent. You need to ensure continuity in pipeline building activities to prevent the problem from reoccurring.
Please comment and share your ideas about how your firm has re-energized Land & Expand.