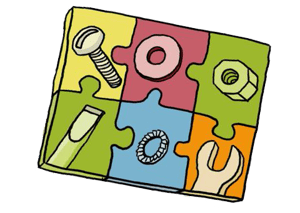 One of the most interesting aspects of the job of a Sales Performance Consultant is to learn why some organisations achieve much better results over a longer time than others when they go through the same process. One key factor is good internal Program Management.
I recently interviewed one of the best Program Managers I have ever worked with, Sabrina Fialho. She is the Program Manager for Sales Excellence at Unit4. Unit4 is a leading provider of enterprise applications for service organisations with an annual global turnover of more than €600M.
Sabrina has a background in sales and was asked by the Global Head of Sales Operations to manage the Unit4 Way of Selling Program. It was like fitting a supercharger to the project! I think this quote from our conversation sums up her attitude "There is no better motivation than to grasp the purpose of everything you do. Every day, I strive to make our sales teams better at what they do – a very exciting mission!"
Objectives and responsibilities
When I asked her what the objectives and responsibilities of a sales excellence Program Manager were, she came up with a list of important points
Create a vision for the program
Define what is in and out of scope
Ensure that the content is relevant
Drive the implementation and adoption
Collaborate with external training and technology providers
She went on to say how important it is to continuously obtain buy-in from key decision makers and the leadership team to ensure a smooth and successful roll-out, involving all the relevant stakeholders. You need to incorporate the program into everything you do, make sure it is fully embraced by the sales community and integrate it into daily activities, make sure it becomes part of your sales culture. You need to collaborate with other company initiatives, ensure that the management cadence is abided to and measure and report on the program impact.
Sabrina promotes awareness of the program across the organisation with ad hoc briefings and training sessions for departments including Marketing, Pre-Sales and HR. She also works closely with HR & Learning and Development to identify training gaps and develops plans to fill them and ensure that the program is fully integrated into the onboarding of new hires.
We all know that there can be a gap between when a participant receives training on a particular part of the program and when they first put it into action. A particularly interesting idea developed by Sabrina was the creation of a curriculum made available in the company's e-learning platform. It contains videos of all the key concepts so people can refresh their knowledge down the line. Another great idea from the Head of Global Sales Operations was to organise a competition at their Global Sales Kick-off based on the Unit4 Way of Selling.
What makes a good Program Manager?
I asked Sabrina what qualities a good PM needs and this is her list.
Communication skills. Sabrina put this at the top of her list and I tend to agree. A good PM will have to repeatedly articulate the program's objectives verbally and in written form.
Understand the organisation. Every organisation is different. You have to be able to navigate through the various people and departments and appreciate the cultural differences from one country to the next.
Creativity. Not a quality always associated with PMs but there are often unexpected challenges that need new solutions. As Sabrina says she often has to "Think quick, act quick!"
Flexible and open minded. This means always being willing to accept suggestions or criticisms, get other people involved in the design and delivery of the program and be ready to adapt to changes.
Sales credibility. Having worked in sales or having some sales experience is a valuable asset. That will help in the crucial task of earning the respect of sales leaders and sales people.
Basic Project Management skills. As well as all the above to be effective you will also need to be very organised, on top of all the dates, good at prioritising and a first-class time manager.
A checklist for success
Sabrina gave me a huge number of valuable hints, tips and insights into getting the most out of sales training. Here are her top do's and don'ts.
DO's
Get the leadership team to actively contribute and walk the talk
Share results and outcomes with everyone involved (e.g. Yammer posts, giving visibility to success stories, etc.)
Get feedback from the Leaders and the Sales Reps on what could be improved - tools, program content, delivery format, etc.
Involve other teams and parts of the organisation in content design and training delivery
WEAR THE T SHIRT!
DON'Ts
Work in a silo approach, producing content on your own and then expecting everyone to embrace it (multi-discipline design team with subject matter experts)
Expect that standard content will work for everyone in the sales organisation: one size does not fit all.
Make assumptions about what people have learned or haven't learned from the training - ask them!
Only keep a short-term plan of what needs to be done. There needs to be a longer-term vision and plan.
Think that you're all done now – this is a constantly evolving program that requires 100% focus and dedication at all times.
Training is just the start
A point that Sabrina likes to emphasise is, in her words "Forget the idea that a good training can be equated with adoption in daily business!" And in my experience, she is absolutely right. I have delivered very similar training in different companies and they all improve results in the short term. But some continue to get better and better results while others drift back to where they were before the training. Increasingly, I believe the key difference is an ongoing sales excellence program led by a strong Program Manager.
I know some organisations will worry about finding a person with the time to run a program like this. But there is no doubt that this investment makes a huge difference and provides improvements in sales that cover the cost of training and a headcount many times over. There may be instances where we supply a PM to work for the client but I think in most cases the best PM should be someone from within the organisation.
Let me give you just one more quote from Sabrina that sums up the sort of attitude you are looking for in a great PM.
"I am very confident that the program is having a positive impact and am directly responsible for shaping a strong sales culture at Unit4. As we continue to rollout all the trainings and activities worldwide, I see higher win rates and larger deals being won. The success of our sales reps goes hand in hand with the success of the program and the success of Unit4."