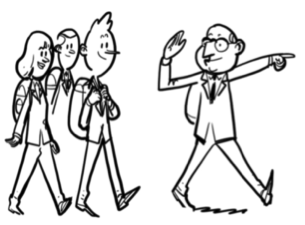 The world is changing rapidly for everyone, but for anyone in a Sales Manager role in a B2B organisation the pace must seem dizzying. Commoditization of existing products and services, technology to enable transaction sales and new procurement techniques are disrupting old models and new solution offerings are becoming more complex to sell. So what does the Sales Manager of today need to survive and succeed?
In the past, a Sales Manager's role was about managing the numbers, making sure there was plenty of business in the Sales Funnel and stepping in to help close sales from time to time. But things are changing very rapidly.
Disruption and the changing role of Sales Managers
One of our clients is a large software company; their business has been hugely disrupted by cloud-based solutions. The Sales Team has been cut by 25% and at the same time the targets for the team have been raised by 15%! Do you think the Sales Manager can sit in his office and crunch the numbers to make this happen? No! He has to work with his team to motivate them, retain the best performers and get the very best out of every one of them.
We work with a global telecoms company and the difference between being a Leader and being a Manager is best illustrated through an example. The Enterprise business for the private and public sectors have different Sales Managers. A while back we initiated a sales transformation for both teams. The Head of the private sector Sales team, which was facing stiff competition, worked hard and coached his team through all the changes required to succeed in the future. The Head of the public sector team, who at that time had around 75% market share, made very little effort to change his leadership style. The private sector team fought back against the competition and did well - the public sector team subsequently lost several pitches in a row.
So what exactly makes a good Sales Leader?
Treat your Team like they treat their customers
Salespeople pay attention to their customers and help them to get what they want or need. They listen to their customers attentively and don't tell them what to do. They identify special ways to strengthen the relationship and trust. They make contact with them consistently to ensure they are satisfied and loyal.
When Sales Leaders treat their employees like customers, their lives become much easier and stronger results follow.
Coaching to win
The key to driving change in sales is good 1:1 coaching. Even just 15 minutes of focused conversation with each person makes them feel valued and more capable. Unless the Sales Manager is spending at least 50% of their time coaching, they can't hope to succeed.
So whilst Managers just looks at results, Leaders focus on the skills and behaviours required to achieve them. They have the ability to identify competency gaps and create opportunities for coaching and development. We usually see Managers spending no more than 20% of their time on coaching.
Good Sales Leaders are role models of the behaviours they expect from their team members. The Sales Manager at one of our clients in the Financial Services sector always shows examples from her own use of our concepts and this gives real credibility to her (and our concepts) during new hire on-boarding.
Another good leadership technique is to get a Sales Person to explain a failure in a way that they and others can learn. That will change a sales culture from one where individuals are afraid of criticism to one where they seek to be challenged.
Going beyond the Sales Team
A Sales Leader at one of our software clients is very generous in praising the work of technical pre-sales specialists and involves them intensively in developing a strategy to win an opportunity. No surprise that they go the extra mile for his sales team.
Success in sales and account management requires alignment across all parts of the organisation. All departments must be customer-focused. Good sales leaders know how to mobilize all functions in a company. They actively ensure that the customer experience across all touch-points in the organisation is optimized. Time spent working inside the organisation can be of more benefit than customer-facing time if it improves the customer experience.
Old school Sales Managers versus new Sales Leaders
The old school Sales Manager just looked at the results. The new breed looks at the reasons behind both successes and failures. Old style Sales Managers criticise team members who are not performing, Sales leaders coach them. Sales Managers only think about sales, Sales leaders think about the whole customer experience.
Any Sales Manager can change the way they work and then change the way their team performs once they embrace the need for change.
Questions to ask yourself
How well do your Sales Managers fulfil the above Leadership capabilities?

Have you seen great salespeople being promoted but failing as Managers?

Do you have a target profile of what good sales leaders looks like?

What are you doing as an organisation to develop these capabilities?
Enjoyed this blogpost? Download our eBook: