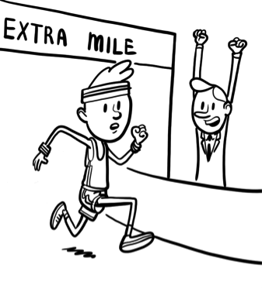 If the product or service you buy goes wrong, you will never buy that brand again, right? Wrong. All the evidence suggests that organisations that make mistakes and do a good job of putting it right build loyalty among their customers. Airlines who lose your baggage and find it again quickly are a good example.
I broke down on my way to the airport a while ago and called the dealership that had sold me the car. I told them I was in danger of missing my flight so they said leave the car where it is and get a cab – we will settle everything and fix the car while you are away. They met my return flight with my car, fully repaired. I had no hesitation about buying my next car from them.
What does this mean for you?
You don't really want anything to go wrong in the implementation phase of a sale you have made, but plenty of things can and do need your attention. So making sure you stay in touch with your customers throughout the implementation is vital, and then if anything does arise you can sort it out.
I have also seen research recently that showed that Sales Managers who get the best results spend less time with customers than poorer performing Sales Managers. They spend their time with the business units in their own organisation, ensuring their customers receive the best possible service at every stage of the process.
Their efforts internally lead to much higher levels of satisfaction among customers and not surprisingly, much higher levels of repeat business.
Going the extra mile
Customers who have had a good experience during the implementation stage are much more likely to buy from you again. I lost a telecoms client in Germany a couple of years ago because the UK parent company wanted to save money and use the same sales training organisation throughout Europe. But as soon as the financial restraints were removed the customer remembered about all those times I had gone the extra mile to review their sales letters, deal one pagers and proposal documents – often over the weekend – and brought their business back to me. And a large software client that had taken their training in house nearly 8 years ago hired us again as soon as they were allowed to use external suppliers.
There is an element of risk if you work with few customers over and over again, so you still need to continually look for new ones. But remember people move jobs, often to similar organisations, which gives you a fantastic opportunity to win a new customer. Even those who don't move on are likely to give you unsolicited recommendations if you have proven that you will go that bit further to help them.
Do you go the extra mile?
Do you look for opportunities to deliver more than the customer was expecting?

Do you support your customer and make sure you are available throughout the implementation phase?

Do you work with all the people in your business who are in contact with your customer to make sure the end-to-end customer experience exceeds their expectations?
Score yourself against 20 Success Factors with our B2B Selling Health Check: