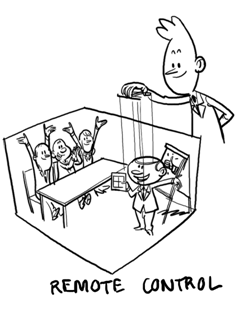 Increasingly I find that my prospects do the selling for me. I will take you through a recent win where I did relatively little conventional selling but nevertheless won an excellent contract.
It started with a previous piece of work
I was contacted by the Key Account Sales Manager for a large company which sells innovative cooking centres. If, like me, you don't know what a cooking centre is, think of a device that can grill, roast, bake, steam, stew, blanch and poach food in large quantities in a very intelligent way. They are used in top restaurants, hotels, fast food restaurants, supermarkets almost everywhere food is prepared in multiple batches.
I had previously worked with the new CEO of the organisation, so the last piece of work I did for him in his old job was the reason we got this totally new lead. His Key Account Sales Manager told me they were changing their business model to sell more into large organisations like supermarket groups and fast food restaurant chains. They had already developed a Key Account Sales Process but he identified that his Sales People needed a change in skills from what he described as 'street selling' to key account management.
His challenge was to convince his boss (the VP Sales) that they should invest in a significant training program in a few months' time. The meeting lay only a few days away.
What was the best way to make the opportunity into a sale?
I could have just sent him some information on Infoteam to help him persuade his boss. I could have tried to persuade him to take me to the meeting so I could pitch to the VP Sales. I could have insisted on meeting the whole Buying Centre so I could tailor a proposal that delivered specific benefits to each of them, that sounds like the way I should have gone. Yes? No.
The Buying Centre was the VP Sales, who had the highest influence, the CEO and my contact. Two of them were already on board so I didn't need to do further research. And time was critical; there was a huge benefit in moving through the Sales Process as swiftly as possible. The meeting in a few days was a one off opportunity. If we could get the VP Sales to make the right decision in that meeting we could cut out any potential competitors.
Should I try and get myself in to the meeting? Well I could make the arguments better than anyone, but the VP Sales would feel he was being sold to and might want to hear from other potential vendors. But if his own Key Account Sales Manager made the arguments he was more likely to sign off the training there and then.
Making your customer into an effective Sales Person for you
They key to this strategy was to make sure my contact delivered the best possible pitch. Making him look good in front of his boss would establish trust, ensure we won the business and strengthen our relationship.
The key to his success – and consequently ours – was a Deal One-Pager.
The customised Deal One-Pager
The key to making this work was to make very sure that the document we produced was clearly the work of the Key Account Sales Manager. So I used his own words and phrases to set out the current situation and objectives. The section that set out the proposed training made it clear that the process would start with a workshop to align the training to their goals and that company examples would be used to demonstrate each concept.
I worked through all the impacts on the business that would flow from the training (and post training support) and summarised them in 5 bullet points. Finally I backed the proposal up with a summary of our relevant strengths.
The finishing touch was to ask my contact for his company branding guidelines so he could leave a branded document behind with his boss.
We won more than a training contract
Yes we won the business. But we also made our contact look good in front of his boss so he trusts us and is an important ambassador for us within the organisation. And the VP Sales clearly thinks we are a supplier good enough to be appointed without a competitive pitch, so everybody has won.
The key to this win was to review the opportunity in the light of the customer and help our contact sell internally.
Ask yourself
Do you try to gain access to all members of the Buying Centre?

Do you win trust by making your contacts look good?

How well do you help your customers sell internally?
Enjoyed this blogpost? Download our eBook: