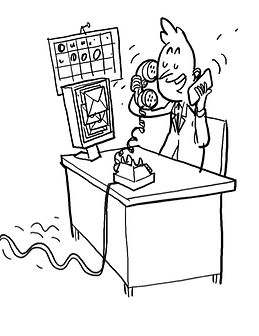 I am often asked by customers whether Inbound Marketing is an effective method to generate qualified leads. In this weeks' blog, I would like to share Infoteam's own experience on this topic with you.
What is Inbound Marketing?
Inbound Marketing turns reaching out to people on its head. In contrast to Outbound (e.g. calling prospects, email campaigns), Inbound focuses on promoting your company and building brand awareness through thought-leadership content (e.g. blogs, eBooks, videos) and other forms of content marketing which serve to attract customers. Inbound earns the attention of potential customers, makes your company easy to be found, and draws customers to your website.
I believe that it is much more likely that a prospect will call you when they have a concrete need and are ready to buy if they have read valuable content written by you on several occasions. According to HubSpot (a leading supplier of Inbound Marketing Software), inbound is especially effective for businesses that deal with high value, long research cycle and knowledge-based products. In these areas prospects are more likely to get informed and hire someone who demonstrates expertise.
So Inbound sounds like a great idea - particularly to salespeople who want marketing to generate more leads! But does it actually work?
The road to realisation
For the past 25 years, Infoteam has received calls from people who've heard of us, people who've been on our courses and moved to another company and are faced with similar challenges again. This kind of word of mouth is good for business. But it has limits to how far it reaches. This is why we turned to Inbound Marketing to extend our reach by earning the confidence, trust and interest of a wider audience.
Since starting 9 months ago, we've been sharing our knowledge through eBooks, blogging and conversations on social media. We've built an audience of hundreds of blog subscribers.
Our blogs are also being used to kick-off weekly sales meetings. Our eBooks are being used to help people master sales negotiations and remind themselves of key success factors in the sales process. Our YouTube sales scribbles (short cartoon animations if you're not one of the thousands who regularly watches them) are helping salespeople to rethink their sales approach in an innovative and humorous way.
We've tried to share the thought leadership that's helped us grow sales success for more than 2,000 of the world's most respected corporations.
What are the results so far
Today, the number of website visitors is up more than threefold and our ranking in Google has improved significantly (Go ahead and Google make your sales process a competitive advantage, we're #1 on page one, in most English speaking regions). So yes, Inbound Marketing drives leads and generates new connections, but what other benefits have we experienced?
Another advantage we have found is it reconnects with existing customers. Out of sight out of mind, can be a truism for many of us. Yet creating interesting content reignites interest from people you haven't been in touch with for years.
We've had numerous calls and thank you emails from past customers who come back and start reading our newly created content; senior directors, sales leaders, sales people. And this in turn has resulted in more word of mouth and concrete leads with previous and new customers.
Our consultants are also starting to share their knowledge and ideas through our Inbound Marketing programme. It feels like we're extending our thought leadership and this makes us more attractive for existing partners and new ones.
In summary we are getting found more often, by more people. The key to success is great content. Great content generates value for readers and makes you a go-to-resource.
Inbound Marketing is a journey
A word to the wise. Inbound is not a quick fix to extending your reach and generating the leads you want for your business. But just like networking, you need to be doing it all the time and not just switch it on and off like a tap – it becomes a mindset and a discipline.
Ask yourself the following questions
Is your marketing generating conversations or just noise?

Are you creating value through what you say and write?

How do your salespeople build their personal brand?

Is your phone ringing with qualified leads?
Score yourself against 20 Success Factors with our B2B Selling Health Check: