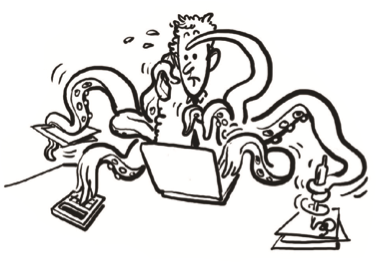 We work for a lot of clients that offer highly complex products or services, like enterprise software or industrial equipment. But what about products that seem to be quite simple, like shampoo? Do you really need a sophisticated Sales Process if you are selling products like these? I am talking about selling these items in large volume, to supermarkets and as private labels.
Simple product. Complex sale.
One of our clients is a contract manufacturer of personal care products like shampoo. They produce 'own brand' products for retailers across Europe. If you are reading this in Europe there is a high probability that you used one of their products in the shower this morning.
It takes more than a good product to convince a retailer that you can grow their private label business. Your services need to address the entire value chain from market research to product development, brand promotion, logistics, reporting and innovation. You are selling a partnership and a long-term strategy to maximize the profitability of the retailer's shelf-space. This is a complex sale and requires close collaboration and alignment of multiple departments in the customer organisation and your own.
FMCG selling
Sales Professionals in fast-moving consumer goods (FMCG) have many similar challenges like their peers in industries with complex products like enterprise software and industrial equipment. Firstly there is the buying group to consider. Retailers have Product Managers, Category Managers in charge of groups of products and then there are sophisticated Procurement departments.
In addition, there are external influencers. If you can publish a claim on the shampoo bottle, like 'Makes blond hair shinier' it will help sales – to blonds at least. But claims like these have to be submitted and validated by official bodies and your manufacturing process probably has to be audited as well.
Unlike in many B2B businesses, the single most important person in selling FMCGs is the final customer. It's no good meeting the needs of all the other members of the buying group if you fail to deliver a product the end customer will like and buy on a repeat basis.
Implementation and account management
You might think with something like shampoo there is little or no implementation process, but you would be wrong. You may find yourself involved in handling consumer complaints and account management involves annual negotiations about cost of goods, shelf-rental pricing and marketing spend.
So although the product is often quite simple, selling FMCGs like shampoo to supermarkets is a complex sale. If you don't want to end up talking to procurement only about price, you need to engage with and understand the needs of multiple stakeholders, create a compelling value proposition and substantiate it continuously through achieved results.
Questions to ask yourself
Does your organisation have a simple product that requires a sophisticated Sales Process?

Does your Sales Process allow you to talk more about value than price?

Is your Value Proposition focused on helping your customer to grow their business?
Enjoyed this blogpost? Download our eBook: