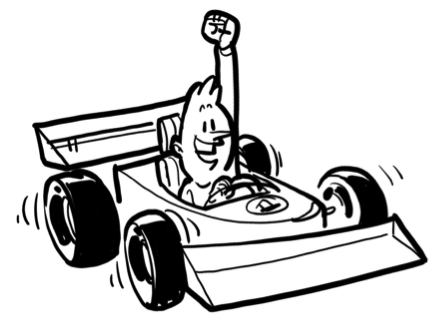 Give prospects a company test drive
So you've done your research, come up with a shortlist of cars you might buy and you walk into the dealer showroom. The sales guy sits you down, offers you a cup of coffee then tells you all about the history of the car company. Then he gets the brochure out and starts to go through the fuel consumption figures, safety ratings, insurance groups – have you walked out yet?
Do you do the same thing to your prospects when presenting your company?
Or do you do what the car salesman should have done straight away – sat you down behind the wheel and given you a test drive?
Developing a company test drive
Start by identifying which strengths you want to demonstrate and use examples of work – case studies – to substantiate them. Instead of talking about what you can do, show what you have already done for a customer in a similar situation who is very happy with the result.
We have a client who is a key supplier to the mining industry. They have excellent global coverage but they don't have a subsidiary in every country. So when they made a Company Presentation to a prospect in a country where they didn't yet operate, they realized they had to address the prospects potential concerns. Instead of showing a map of their global footprint, they took the prospect through a case study showing how they had successfully set up a subsidiary in a new country and included a testimonial from the customer.
At Infoteam we had a similar situation. We wanted to work with a US client who was concerned that we only had 1 consultant stateside. So we used WebEx to allow one of our US clients to join the meeting and talk to our prospect through how well our recent US project had gone.
You may have to use several case studies in a Company Presentation to cover all the points for a particular prospect and this is much harder work than just showing a slide with a map of your global network and another slide of the CEO's great grandfather. But it is work that will help you get your company credentials across more effectively.
Install your Sales Process
On one level you are using a case study to demonstrate how you successfully met the needs of an existing customer to show how you can meet the needs of a new one. But there is another message you should be delivering powerfully in the background. You need to present the case study in a way that shows exactly how your Sales Process led to the successful delivery. This sets the stage for implementing a similar Sales Process with the prospect.
We did exactly this when we took a Middle East Telecoms Company through a case study and we showed them the Mutually Agreed Action Plan (MAAP) – the term we use for the Sales Process presented in a customer-friendly format. At the end of the first meeting they wanted their own MAAP and this helped us to carry out a full needs analysis before submitting a proposal.
You can also use case studies to illustrate things like your company values, commitment to delivering ROI and other things that are important to the prospect. And test drives are not limited to initial presentations. You should demo your solution wherever possible to show what working with you will look like and to get buy in.
Questions
How do you feel when giving your Company Presentation?

Does your Company Presentation grab people's attention?

Does it differentiate you from your competitors?
Score yourself against 20 Success Factors with our B2B Selling Health Check: